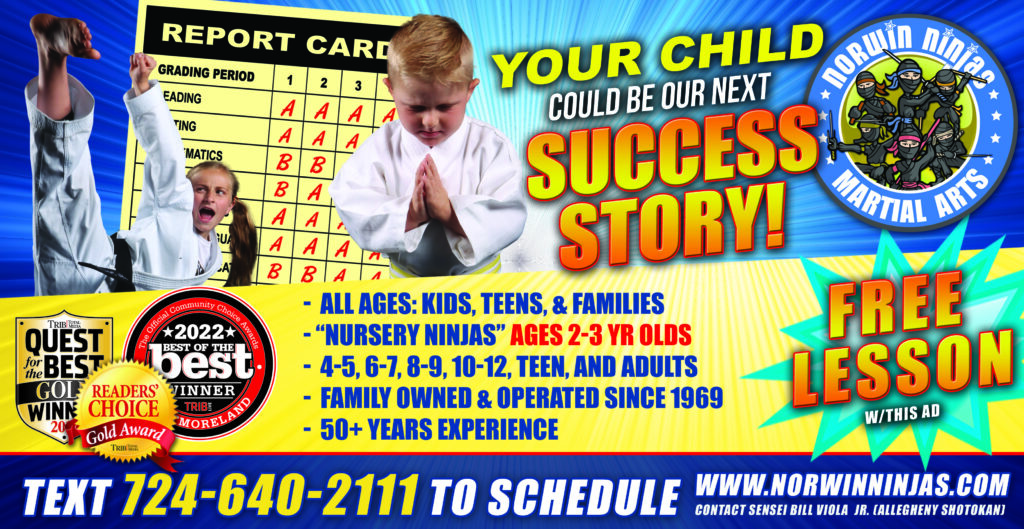 Norwin Ninjas Karate For Kids
Norwin Ninjas is an award-winning martial arts program developed by the Allegheny Shotokan Karate Club and Viola family. The 空手 school has been family owned and operated since 1969 serving the Irwin, North Huntingdon, Western PA and greater Pittsburgh region for over 50 years. Certified karate instruction and classes for kids with the experience you can trust. Classes feature the exclusive Sensei Says ® life skills curriculum created by Sensei Bill Viola Jr. 🥋 We teach budo (martial way) a philosophy of building character. Learn more about becoming a Black Belt in Life ®or check our Sensei Viola's award winning CommonSensei book series.
We offer FREE lessons every Monday, Tuesday or Wednesday @ 5:30 PM. Just call or text (fastest response) to schedule an appointment. 1-724-640-2111
The oldest and most established karate school in the Irwin and North Huntingdon area.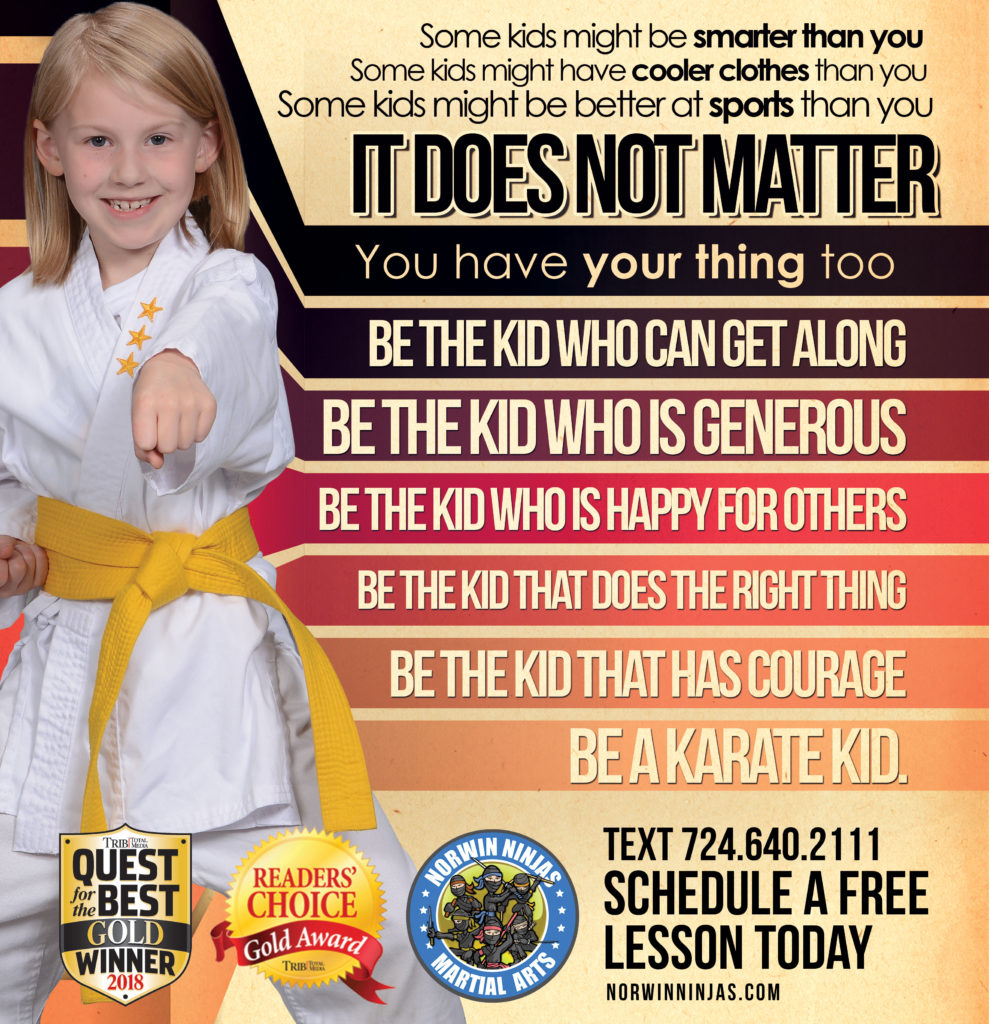 Norwin Ninjas has a rich tradition serving Westmoreland county, recognized internationally as the most successful sport karate school in the Pittsburgh region. The school is a member of the USA Karate Hall of Fame and Sport Karate History Museum.
Where you can become a "Black Belt in Life."The club is a pillar of the community, mentoring thousands of children for over 50 years and producing more regional, national, and international champions than any other dojo in the area including: Amateur Athletic Union (AAU), United States of America Karate Federation (USAKF), United States of American National Karate Federation (USANKF), National Black Belt League (NBL), Sport Karate International (SKI) North American Sport Karate Association (NASKA), and Police Athletic League (PAL) Pennsylvania Karate Rating Association (PKRA) and World Association of Kickboxing Organizations (WAKO). Find us on Google+ Google Google
The Norwin Ninjas karate course was developed to instill respect and self-discipline while boosting confidence and self-esteem in children. Members of our staff have been honored by The Champion's Association, In Community Magazine, Positive Athlete, and The Police Athletic League and Pittsburgh Sport Karate. Norwin Ninjas are proud members of the following karate organizations. We are the only Pittsburgh area dojo affiliated with both USANKF and WAKO the Governing bodies for Karate and Kickboxing.
–

Our Karate for kids classes are for children of all ages use the exclusive Sensei Says ® LifeSkills
curriculum