You can't buy character, you have to build it. -Sensei Bill Viola Jr.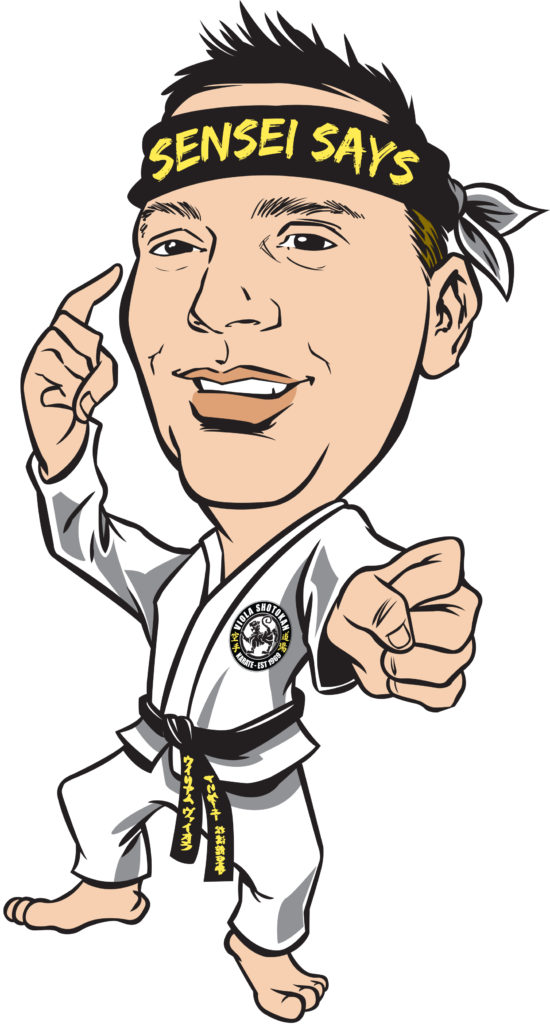 Norwin Ninjas teaches the exclusive award-winning Sensei Says Life Skills Curriculum. Norwin Ninjas is a specialized karate for kids course designed to build self-confidence, instill respect, and teach discipline through LIFE SKILLS. Our children classes include:  Nursery Ninjas ages 2-3 (toddlers), 4-5 (preschool, kindergarten, first grade),6-7, 8-11, and children 12+ age groups.  We also offer teen, family courses, self-defense workshops, through our parent program Allegheny Shotokan.  Private lessons are available for kids as young as 3 years old and students with special needs.  The Ninjas use the award-winning "Sensei Says ®" curriculum created by Sensei Bill Viola Jr.
We build self-esteem though positive reinforcement. Our Ninja's are champions in life!   Each class is an exciting workout that challenges the kids both mentally and physically.  No experience is necessary.  The classes focus on working towards and reaching new goals each week.  This process will boost a student's self-esteem.
Master William Viola Sr. is not only a pioneer of Martial Arts instruction, but is also a retired public school teacher serving over 30 years.  His wife Barb is also a lifelong educator and member of Norwin School Board.  His son, Bill Viola Jr, has been involved in karate for over 35 years and his wife Jennifer has a Masters Degree in Elementary education. Bill's sister Addie also has a Master's Degree in Elementary education (teaching Kindergarten in the Bethel Park School district).  Both Jennifer and Addie have served as an advisors to help create unique Norwin Ninjas workbooks and curriculum.
Karate for kids in the Irwin North Huntingdon PA area
THE CORNERSTONE OF OUR PROGRAM: PERSONAL DEVELOPMENT © Norwin Ninjas
Our programs are structured to develop positive "character" traits that reinforce strong family values. Integrity is the key ingredient to our success! Our programs build your "SELF" image with goal oriented objectives. Working towards, and reaching these goals, will boost one's self-esteem. It is extremely important to balance self-confidence with humility… We strive to instill confidence, not cockiness. Each student is taught to be a role model and must lead by example. We help you harness your personal power. A student's progression in the martial arts is largely based on a good attitude and positive thinking. We instill discipline to help achieve superior mental focus. To achieve a winning mindset, our classes embrace the three "D's" Desire, Determination, and Dedication.
KARATE BEGINS AND ENDS WITH RESPECT:
Karate is based on an ideology of courtesy. Students must learn the value of respect. The repeated act of bowing reinforces self-respect, the respect of authority, and earning the respect of one's peers. At our dojo, there is no religious or subservience significance involved in bowing. It is a traditional custom associated with Japanese martial arts and culture, and should be viewed as a demonstration of respect for the art and one another.
SELF-CONTROL & SELF-DEFENSE:
All personal goals are accomplished while developing skills of self-protection that could potentially save the life of a loved one. Karate teaches powerful techniques including: punches, kicks, strikes, and blocks. However, these skills are reinforced with a serious sense of responsibility. We teach students self-control to refrain from violent behavior. The use of karate is always a last resort, as we teach there is NO attack in karate. Karate begins and ends with a block, upholding the concept of "self-defense." Martial Arts is a dynamic full body workout. Students will benefit from improved concentration, coordination, & speed. You will feel more energized with increased power, and endurance. It is a great way to build stamina and improve reflexes while relieving stress in your life.
TOGETHER EVERYONE ACHIEVE MORE:
We emphasize the importance of good sportsmanship and teamwork through competition. Tournaments encourage a spirit of loyalty, pride, commitment, and camaraderie. Although we have produced thousands of champions in the ring, ultimately a student's success is not based on winning or losing a match. Real success is measured by setting goals and overcoming obstacles. Victory is defined when years of preparation meet the right opportunity. Winning a tournament only lasts a moment, but believing in yourself and having the perseverance to self-improve lasts a lifetime.
THE PURSUIT OF PERFECTION:
There is no secret to achieve a black belt or become proficient in karate. It takes years of consistent practice and training. The perfection of both your technique and character is defined by a strong work ethic. The physical and mental training will give you the peace of mind to achieve greater success at your job, school, or personal life. The lessons learned through karate can take ordinary people and transform them into extraordinary leaders.