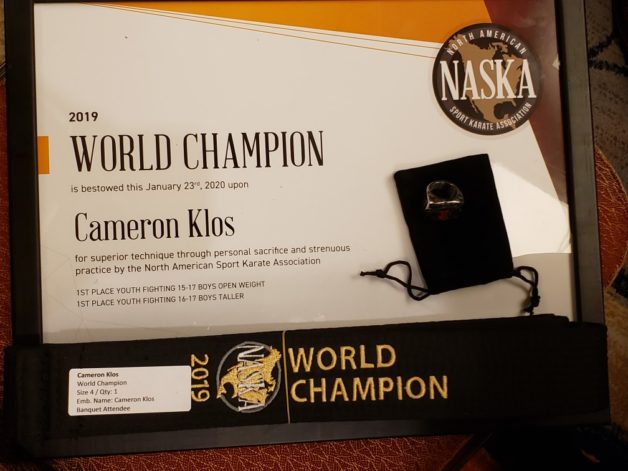 Pittsburgh Karate Athletes Earn 2019 World Titles
The North American Sport Karate Association (NASKA) sanctions the most prestigious karate tournaments in the country and abroad.  For the last thirty years, the league has tracked and ranked competitors throughout the tournament season to determine the World Tour Champions.  The ratings are compiled annually, with the highest point total determining who earns the World Championship Belt and ring.  North Huntingdon residents Xander Eddy (10 years old), Luke Lokay (16 years old), and Cameron Klos (17 years old) became the first Western Pennsylvania martial artists to win a NASKA title since their Coach, Bill Viola Jr. and his sister Addie were ranked #1 in NASKA in the 1980s.
The awards are presented at the AKA Warrior Cup in Chicago, Illinois.  It is the longest running tournament in America founded in 1964.  The tourney hosted the NAKSA Banquet on Thursday January 23rd 2020.  President Larry Carnahan from Minneapolis, MN presided over the ceremony in which three Western Pennsylvanian black belts were honored as the best competitors in the World for their age categories.
Sensei Bill Viola Jr. said, "I am so happy to pass the torch to these kids. They are an inspiration to this community and a testimony of hard work and dedication.  They made Norwin proud."
NASKA World Tour Champions:
10-year-old Xander Eddy World Champion (10- Open Weight  and 10- Black Belt)
16-year-old Luke Lokay World Champion (16-17 Light Weight Black Belt Sparring)
17-year-old, Cameron Klos World Champion (15-17 Open Weight
16-17 Heavy Weight black belt sparring
The team is gearing up for the 2020 WKC World Championships will be held in Madrid, Spain and fundraising to send a team to Tokyo, Japan to attend the 2020 Olympics.
For more information visit www.alleghenyshotokan.com
Cameron, Luke, and Xander now carry the torch from Billy and Addie Viola who won NASKA titles in the 1980s at Allegheny Shotokan Dojo.
Long post lol. I'm so very proud of my dojo team/family. We don't follow any circuit exclusively, it's the way I was brought up. My dad taught us that you have to diversify and seek out the best… so with that philosophy we've tested our crew over the years and won and learned from every major league: USANKF, WAKO, NBL (in its prime), AAU, WKC, etc. This year one of the goals was to capture NASKA World overalls… we took 4 kids out on the road across the country on the world tour. How'd they do? Xander Eddy #1 world ranking in both 10- point & Open Weight, Luke Lokay #1 World ranking 16-17 boys short, Cameron Klos #1 World ranking in both 16-17 boys tall & 15-17 Open Weight, Lucy Lokay who began the year as an under belt (still a brown belt but bumped up to bb 1/2 way through) made a big debut being named as top 4 overall Jr black belt female by sport martial arts. I don't wanna leave Gabby out, she's a warrior who also won throughout the year, but is still an underbelt, and was limited by medical restraints. In all I couldn't ask for more. A knock on the system is pure point chasers (who never win 1st during the season) buy a title. I'm proud that each kumite kid won multiple 1st places and took home grands…Not an easy feat for unseeded NASKA rookies coming into 2019. More important these are good kids. You won't find them tossing their gear after a loss or swearing at their parents as I see soooo often by top juniors. They are held accountable because the next little champ could be watching. This journey is about building character, memories, and camaraderie. Well done guys. I might be in Florida while you're in Chicago, but the work was done In Pittsburgh. You guys pushed each other and performed consistently! While I'm not big on the term "world title" (This was a North American title based on an incredible body of work) it is in fact a very difficult honor to earn. The travel, training, injuries, ups, and downs can take its toll. Always remember your support system at the school (all the sensei) and your parents, who are without question a blessing to give you this opportunity. Today you are on top, but Tomorrow can be another story. Continue to grow through wins and losses and never be satisfied or complacent…. this is just a check mark. New goals and new limits to push begin now. Onward and upward.
NASKA History:
The History of NASKA (North American Sport Karate Association)
Founded: 1986
Although not in name at the time, NASKA's seed was planted in 1977 when the executive editor of "Karate Illustrated" Magazine, Renardo Barden, started publishing competitor regional ratings in an attempt to create some order in the world of tournament karate around the United States. KI rated competitors in 12 regions across the US. From these regional ratings, KI, through various subjective methods, rated 36 men fighters in 3 categories, Top Twelve Overall, 12-1st Honorable Mention, and 12-2nd Honorable Mention. KI's rating system went through many changes in the early years and progressed soon into rating black belt men, women and children in form, weapons, and fighting. A few years later, KI began rating tournaments as well, awarding them ratings of A, B or C according to 11 set criteria. These criteria were: 1) Level of Fighting Competition; 2) Level of Form Competition; 3) Level of Organization; 4) Level of Hospitality; 5) Quality of Hotel accommodations; 6) Style Prejudice; 7) Regional Shaft Factor; 8) Punctuality; 9) Tournament Venue; 10) Transportation to Tournament Site; 11) Overall Size of Event.
Although Karate Illustrated Magazine did exceptional work in their achievement of organizing and rating tournament karate, in 1986 they decided that 9 years were enough and discontinued the tournament/competitor rating service. By 1986, most of the current World NASKA tournaments had become part of the KI nucleus of "A" rated tournaments. Not wanting to see the rating system end, the promoters of the "A" rated tournaments at that time agreed to stay together and keep the rating system alive. The promoters of the AKA Grand Nationals (Warrior Cup), Battle of Atlanta, Diamond Nationals, New England Open, Ocean State Grand Nationals, US Capitol Classics, US Open, and a few other tournaments that no longer exist, all joined forces and created, "NASKA" (North American Sport Karate Association). NASKA has added additional world-class tournaments throughout the years and has had as many as 15 World tour tournaments along with National and State tournaments as well.
From 1986 to today, NASKA continues to be the leader in "Open Tournament Sport Karate", in sanctioning North America's most prestigious karate tournaments and in giving the world's greatest karate athletics a forum to display, innovate and develop their talents. To acknowledge our tremendous admiration to all the NASKA Champions over the past 30 plus years a special tribute of the "NASKA Champions Hall of Fame" will soon be introduced.
In 1988 Mr. Carnahan was elected President of the North American Sport Karate Association (NASKA) and still holds the office today. NASKA is one of the largest sport karate sanctioning and ratings organizations in the world.
As a director of JLB Productions, Inc., and the National Karate Academy of Martial Arts, Mr. Carnahan has helped build the Diamond National Karate Championships into one of the world's most prestigious and best known Karate Championships.