Visit Norwin Ninjas and see why it has been voted the top karate school Irwin, PA.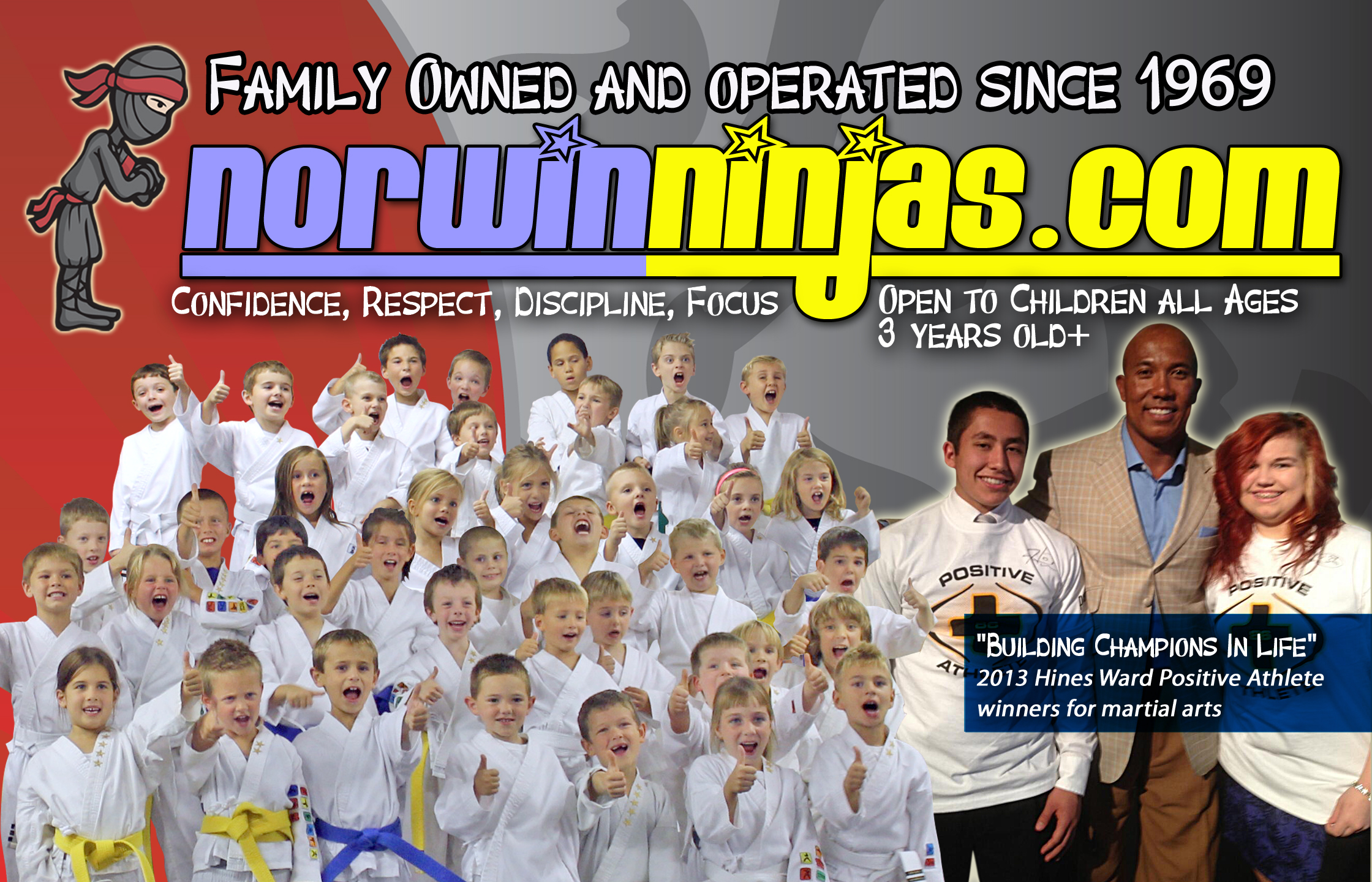 Norwin Ninjas specializes in "Building Champions In Life."  The family owned and operated school is run by the Viola family.  They members of the USA Karate and National Black Belt League Hall of Fame.  The students have been featured on www.kumiteclassic.com and www.pittsburghsportkarate.com
Since 1969, The Allegheny Shotokan Karate School has produced some of the most celebrated martial artists in the history of Pennsylvania; recognized as the most successful national and international sport karate school in the Pittsburgh region by the National Black Belt League. North Huntingdon Martial Artist Sensei Bill Viola Sr. founded the organization nearly forty five years ago and since taught tens of thousands students over his career. However the school takes great pride in its black belts.  You will not "Buy" a belt here, you must earn it. By Bill Viola
Google
What to look for in a karate school?  Please remember there should be no timeline or special payment program to obtain a black belt.  You must earn your rank!  Every student moves at a different pace and has different abilities.  If a school promises you a black belt in a certain amount of time, or they have a bunch of kids who are "black belts" that should be a red flag.  Always do your homework when you are selecting a martial arts school.
"Even though so many students have trained with me over the years, its only an elite group that earn the rank of black belt from Allegheny Shotokan. I believe in quality over quantity, when it comes to wearing that particular belt." -Sensei Viola (Tribune Review)
Listen to some testimonials…
It is quite simple; there is no better Martial Arts School around! This school does not give belts out after a designated time frame. You must earn each and every belt, which takes a lot of training, discipline, and dedication. Allegheny Shotokan, led by the Viola's, has produced numerous WORLD champions in Sports Martial Arts, along with many advanced black belts that are widely recognized throughout the world. Whether you are looking to learn traditional Shotokan karate, or want to give Sport Karate a try, this is the place to go. This school makes you feel like you are part of their family. My son and I have been going here for over 8 years and have loved every minute of training together!  -Gary Klos
Testimonial 2
A Family run school, with exceptional instruction and care. This is not a chain, you will progress at your own pace. From the beginners to the nationally ranked team members to the senior black belt instructors, these are special people that will bring out the best in you! The Viola's are legends in the sport karate world and there is no other school in Pittsburgh that has more honors, awards, or champions! Definitely worth a look, stop by for the free lesson! My daughter has been a member for over 8 years!  -Michael Russell
Come see why we have been voted the top karate school Irwin, PA.
[schema type="review" url="www.norwinninjas.com" name="Norwin Ninjas" description="Karate for kids in Irwin" rev_name="martial arts" rev_body="Award winning karate classes" author="Bill Viola" pubdate="2013-12-11″ user_review="5″ min_review="1″ max_review="5″ ]Looking for a karate school Irwin PA?  Norwin Ninjas offers a great course for kids who are looking to build self-defense and gain self-confidence.
Find us on Google+ Google Google