We are excited to turn "Self-Quarantine" into "Self-Discipline"  It's simple.  Every challenge/mission students complete is worth points.  Those points = raffle entries at end of the month. Goals can't stop!  PS, make sure to like the video and follow the YouTube page.
How to play:  All you have to do, is watch the lesson and participate sometime during the week and you earn +10 points.  This is tracked by parents posting a a quick picture or video of you doing the class. You must post to or check-in to Norwin Ninjas to get credit.  Inside the lesson are bonus points. Compete and post progress and get more points.  Simple.  Go get it 💪💪💪!!!!!!!!!!!!!!!!!
Kick Corona #3 (March 30th) 
Bushido Game:  "The way of the Warrior"
All you need is a deck of cards:
Options:
Play by yourself, go through the entire deck
WAR (bu) vs Parents or sibling
Facetime vs Another Dojo Friend and pay WAR
Number Cards 1-10 reps
🤴       Jack = 11 reps
👸       Queen = 12 reps
👑       King = 13 reps
🃏        Joker = 1-min max (winning player choice)
Red Cardio=Style  
♥       Punches                       Bounce                                  ️
♦        Kicks                            Bounce                               
♣️       Blocks                          Lunges                       
♠️️        Stances                       Bounce squats            
Black=Kihon=Style
♥       Punches                       Horse Stance Reverse punch
♦        Kicks                            Feet together
♣️       Blocks                          Horse stance
♠️️        Stances                       3 sec hold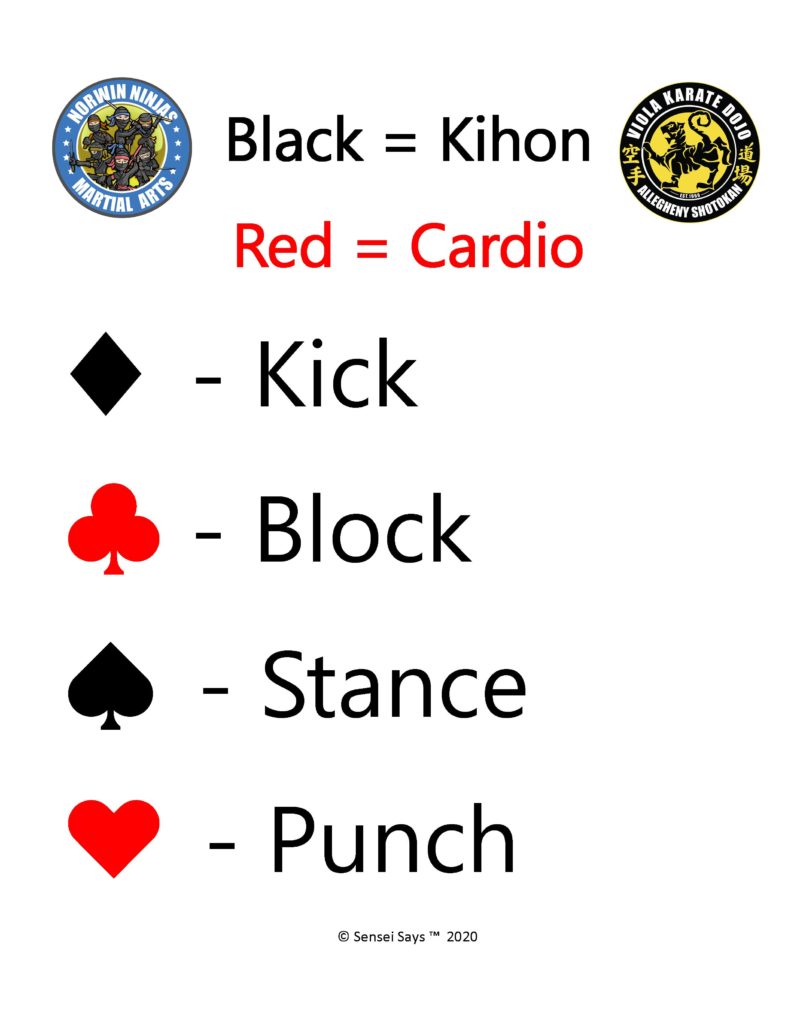 All ninjas, please print out this worksheet to learn about your April lifeskill "Focus."  The kiai animal is the Eagle which we call Washi.
Weekly challenge:  So far you kicked the "Name challenge" and the "Bingo Challenge"  This week is the "Corona Kata Challenge!"
Your week long challenge is ready to go.  This is my favorite so far!  Use your creativity and skills to "make up" your very own kata.  Remember, a kata is simply a pattern of moves simulating an imaginary fight.
Once completed, the kata should be DM (direct messaged) to Sensei Bill or through the Ninja facebook page no later than Sunday April 5th. The Senior Black Belts will vote.  If you kata wins, you get to teach your kata to the class when the dojo reopens!
3 Categories:
Novice: White/Yellow/Orange.  20 moves with the basics you know
Intermediate: Blue/Green/Purple.  40 moves with the basics you know
Advanced: Brown/Black.  50+ moves
What you need to know.  This is a personal expression, so have fun.  Do some research on youtube and blend some of your favorite moves.  You can use any basics, but don't copy entire sections of existing kata.  This should be original.
Name your kata
The kata should represent that name
The kata can be from 20-70 moves
It must end where it started (embusen)
It must have at least 2 kiai. You can have more
It must follow some type of line pattern
Advanced only: It must have application (bunkai).
Kick Corona #2 (March 23)
Kick Corona Class #1:   You have 1-week to complete this mission. Watch this at your convenience and post to get your points. Intro/novice/Intermediate Ninjas:
Kick Corona #1
Alphabet Challenge.  Spell  your name… that's the workout.  60 seconds each letter: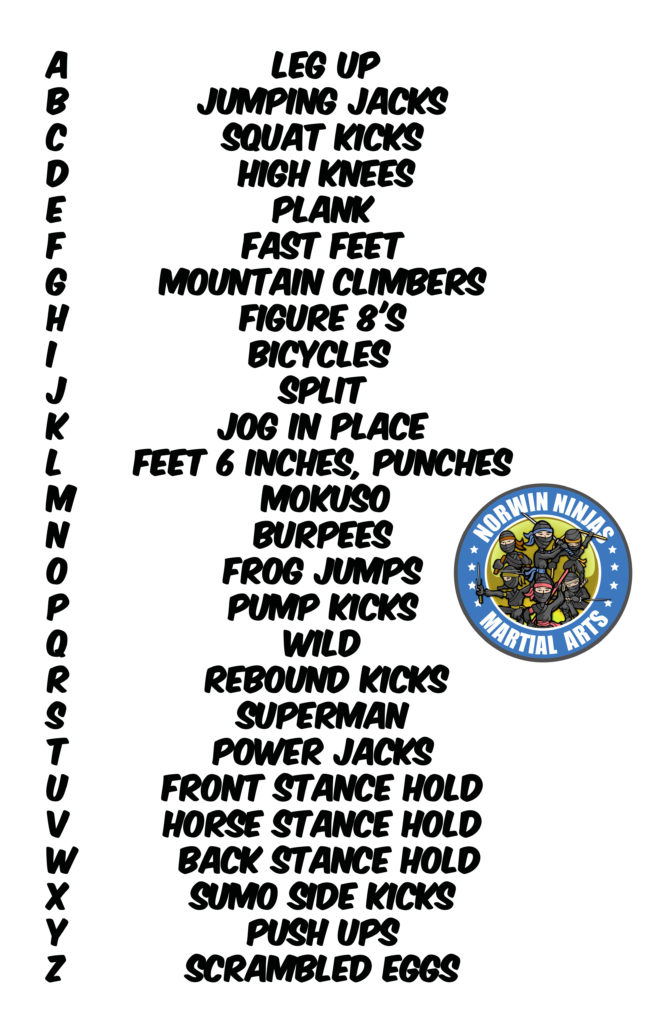 Corona Kumite (conditioning)